2 minutes reading time
(430 words)
Town Of Mammoth Lakes Could Be Facing Mammoth Debt; On To Mediation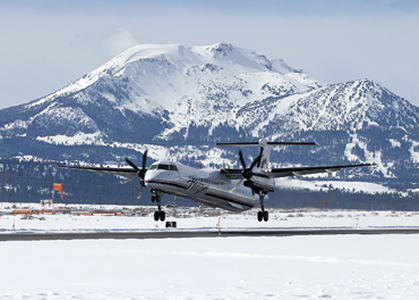 Mammoth Lakes, Calif., just down the road from the Mammoth Mountain Resort, is facing payment of a potential $30 million judgment brought by Mammoth Lakes Land Acquisition (MLLA), a developer, according to a Los Angeles Times report. Note this is a town issue, not a ski resort company issue.
MLLA's 1997 agreement with the town required the developer to make improvements at the Mammoth Yosemite Airport. The developer, in turn, would receive the rights to develop a $400 million Hot Creek hotel project on 25 acres at the airport and an option to buy the land.
The town determined in 2007 the agreement would undermine its plans to accommodate Boeing 757 passenger jets at the small mountain airfield. This change led the development company to file a breach of contract lawsuit against the town. Mammoth Lakes residents year-round residents number about 7,500, obviously swelling to much larger numbers of visitors.
The Town Council has retained a law firm to help them sort through the legalities of losing this judgment which is approximately twice the operating budget of the town.
The Council first took their case to California's Panel of Appeals. Judges, in a unanimous 66-page ruling, "chastised the town from trying to back out of the agreement." Next stop was the California Supreme Court. They refused to hear the case.
The town is left with just one more avenue to pursue: mediation. California's new law, effective Jan. 1, 2012, says before any municipality can enter into Chapter 9 bankruptcy, there must be an attempt at mediation. Mediation, however will not change the town's $42 million costs which include $12 million in legal fees, plus the initial $30 million lawsuit.
It's a long shot, most agree, but it appears to be their only shot at the moment. Finger-pointing is inevitable, and "bungling" has been insinuated, but townspeople are hoping the town "does not splinter into angry factions," notes the Times article.
The two parties will meet with the mediator in private, each stating the problem and their solution for solving it. The ultimate goal is to reach an agreeable settlement. The mediator is chosen from a list of names submitted by both sides. Both sides risk nothing in the attempt as neither give up the right to bring legal action if the dispute is not resolved.
Municipal bankruptcy filings are far from common, but with so many counties nationwide facing bankruptcy, it is being considered more and more of an option. Two California counties and cities have experience. Orange County filed the largest ever Chapter 9 in 1994. The City of Vallejo recently emerged from Chapter 9 after three years.
Photo: Mammoth Yosemite Airport
By accepting you will be accessing a service provided by a third-party external to https://www.snocountry.com/