2 minutes reading time
(355 words)
New Utah Ski, Snowboard Resort Cleared For Construction
In 2007, Echo Mountain Park in Idaho Springs, Colo., became the last brand-new ski and snowboard mountain to open in the United State -- until now. Enter Cherry Peak.
Echo Mountain owners took the financial risk because they believed the mountain's proximity within an hour of the Denver metro would provide its customer base.
Now, five years later, another group of entrepreneurs are taking the plunge with Cherry Peak Ski Area, this time banking upon a customer base in Cache Valley cities of Richmond and Logan, Utah, and the greater Salt Lake City metro area. Currently, the nearest resort to Richmond is Beaver Mountain, which is 12 miles to the north.
Located three miles from downtown Richmond, Cherry Peak has received a conditional use permit from the Cache County Planning Commission and weathered a protest from a group of Richmond residents with a unanimous approval from the county's Board of Adjustment. Opponents said at that time they would consider legal action to block the development.
Logan Checketts, a resident of Dayton, Idaho, who is involved in real estate in Pocatello, is partnering with John Chadwick, a North Logan resident, on the project. Chadwick, who has an ownership stake in the property where the resort is planned, originally filed for a permit in 2010 as Rainey Ranch Ski Resort but withdrew his application.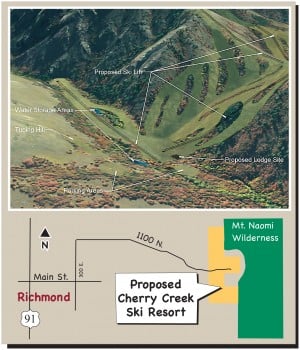 The latest plans for Cherry Peak call for four lifts with 1,000 skier-per-hour capacity on 200 acres on 11000 Road east of Richmond. Included in the master development plan is a 10,000 square-foot base lodge with restaurant and rental shop, terrain park, tubing hill, and zip line. The county's evaluation of the Cherry Peak master plan is online.
A five-year phased bailout plan, which was originally approved in February, has construction beginning in September 2012, with skiers and riders on the hill at the start of the 2013-14 season. The first two years of work are expected to produce infrastructure, two lifts, the lodge, terrain park and tubing hill, and improvements to the county road that leads into the resort area. The second three years of construction will focus on the third and fourth lifts, zip-line, and maintenance and ski patrol facilities.
By accepting you will be accessing a service provided by a third-party external to https://www.snocountry.com/