2 minutes reading time
(329 words)
Maybe Add China To Your Skiing/Riding Bucket List?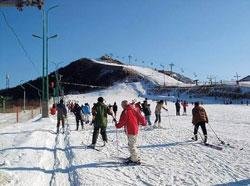 You just might be day dreaming these summer days about an exotic ski vacation. Here's one for you: Changbaishan Resort in Northeast China.
You'll be more than comfortable. American hoteliers Starwood Hotels and Resorts have popped open the doors this week to what it calls its first "dual branded" ski resort complex high in the Changbai Mountains. The dual brands include the Westin Changbaishan and the Sheraton Changbasin.
There's plenty of room, too. The 257-room Westin has ski-in, ski-out access, full mountain views, several restaurants, a spa, Westin Kids Club, and an indoor pool. It's sister hotel, the Sheraton, has 296 rooms and suites with mountain or ski slope views, and a Sheraton Club lounge. Want to bring along a few colleagues? The complex has 37,000 square feet of meeting space and huge ballroom.
"China is both our fastest growing global market and our richest source of loyal travelers, and we expect this dual-branded Starwood resort development will resonate," said Stephen Ho, President, Starwood Asia Pacific. "Guests will enjoy world-class amenities set against the backdrop of one of China's most visually stunning mountain ranges."
It may be visually stunning, but the skiing terrain stats may not rattle your boots. There are 2 alpine and 2 Nordic trails with "freestyle stretches." The two alpine pistes total 3,000 meters, each with some intermediate terrain. There is a single cable car taking skiers and riders to a "common jumping off point at 1,820 meters above sea level." 
The resort is located in the Changbeishan Nature Reserve in the town of Erdaobeihe in Jilin Provence. 
Be a bit careful, however, if you do much off-piste skiing or riding. A roughly translated news release warns, "the border with North Korea can be accidentally crossed here if one is not attentive – this is reported to have actually happened once." That might not be an ideal side trip. 
Top Photo: Chanbaishan Resort, China
Westin Hotel, Starwood Hotel Photo
By accepting you will be accessing a service provided by a third-party external to https://www.snocountry.com/