3 minutes reading time
(632 words)
Four Skiing Legends Headed For New Waterville HOF
Four people who have left an indelible mark on the development of Waterville Valley Resort in New Hampshire will be inducted into a new resort Hall of Fame March 31, 2012.
The first class of inductees include Waterville founder and master developer Tom Corcoran, a two-time Olympic ski racer; Anna McIntyre, World Cup organizer and club leader of the BBTS Snowsports Educational Foundation; the late Jim Shea, owner and founder of Capitol Distributors, a major supporter of Waterville events over the years; and Wayne Wong, the freestyle skiing legend and World Champion who perhaps did more than any other to put freestyle skiing on the map.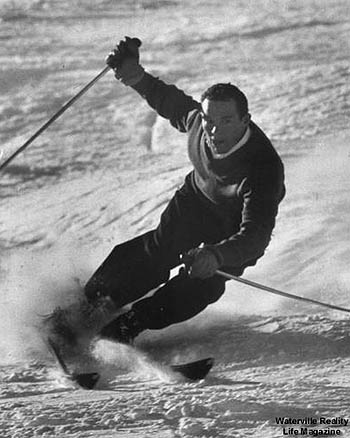 "The building of the high-quality, close-knit Waterville Valley community, with superb facilities for families, was one by-product of the Mt. Tecumseh ski area," Corcoran told SnoCountry.com. The ski area, originally known as Mt. Tecumseh, opened for Christmas in 1966 and, up to that time, it was the most ski area construction ever accomplished in just one building season.
"I am honored to be selected as one of the first four inaugural inductees," Corcoran told us. "A stream of talented people were attracted to Waterville Valley over the years, perhaps initially by skiing, who liked and appreciated what they saw in the beauty of the circling mountains and across the valley floor." Corcoran said he looked forward to taking a run with Wong to see "if he can still do a Wong Banger."
The ceremonies and dinner, open to the public, and tickets are $75 per person or $900 for a table of ten if purchased before March 10. Prices go up after that. Proceeds from the inaugural dinner will benefit the nonprofit Waterville Valley Foundation. Reservations can be made at (603) 236-8311.
"This is going to be one of the highlights of the winter season", said Bob Fries, President of Mountain Operations. "There have been so many people who have made significant contributions to Waterville Valley, and we wanted to honor some of them. This is going to be an annual event we hope everyone puts on their calendar."
Waterville has a well-earned reputation for hosting major snowsports events. Wong notes that the resort was the first area to organize and host the National Championships of Exhibition Skiing in 1971. He called Waterville his "second home."
The three living inductees plan to be at the resort for the day of the ceremonies and skiers and riders will have the opportunity to spend time on the slopes with them.
The resort was in the news recently when four U.S. women downhillers finished in the Top 10 spots on the new Olympic course at Rosa Khutor, Russia. The last – and only time it happened before that was March 17, 1985 at Waterville Valley.
Waterville Valley plans to continue hosting major events, and is bidding to make the ski area a stop on the international alpine World Cup again as soon as 2015, according to Bobby Foster, marketing director.
The World Cup circuit last stopped at Waterville in 1991. No eastern ski resort has held a World Cup since, leaving the only U.S. dates to Aspen and Beaver Creek, Colo. Resort leaders hope to be ready with new course to host international events again as soon as 2015. A U.S. Alpine Championships is also a possibility.
What It Means: The Hall of Fame is the first salvo -- a strong move to bring Waterville Valley back to its glory days after New Hampshire's Sununu family (former Governor and Senator) bought the area and village in 2010. It had been languishing under several absentee owners for some 20 years. No more. Corcoran-era industry veterans Bob Fries and Bobby Foster are now key players of the new management team, and investments in improvements are being made. SnoCountry.com congratulates the first class of inductees.
Photo: Waterville Valley founder and U.S. Olympian Tom Corcoran (Life Magazine)
By accepting you will be accessing a service provided by a third-party external to https://www.snocountry.com/